Teenager raped while walking dog in Edinburgh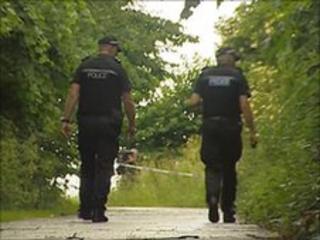 A 16-year-old girl has been raped by a man as she walked her dog in Edinburgh.
The teenager was grabbed from behind and pulled off a footpath at about 2200 BST on Wednesday in the Crewe Toll area of the city.
Lothian and Borders Police described the rape as "random" and said the victim had been left "deeply distressed and traumatised".
They have appealed for witnesses who were in the area about the time of the incident to come forward.
In particular, they want to speak to a man, thought to be in his 60s, who was seen walking a black dog.
Police believe he may have seen the victim and the suspect.
'Essential information'
The rapist is described as being white, aged in his mid 20s, 5ft 5in tall with a slim build.
He had short dark hair, a gaunt face and a stubbly complexion.
At the time of the attack he was wearing a black short-sleeved top with white writing across the chest and a coloured pattern beneath the writing, blue Adidas jogging bottoms with white stripes on the legs and white trainers with a red symbol on the tongue.
Officers were due to carry out high-visability patrols in the area on Thursday evening.
Det Insp Grant Dougall said: "The purpose of this re-visit is to speak to those who regularly frequent the Crewe Toll area and may have been there around 10pm last night.
"The footpath and surrounding area is used by numerous people, including cyclists, dog walkers and members of the public cutting through.
"I would urge anyone who believes they were in this area last night and believes they saw or heard anything suspicious to come forward immediately."