Huyton boy shot friend dead by mistake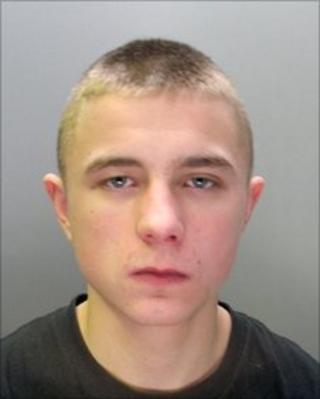 A 16-year-old boy from Merseyside has been detained for five years for accidentally shooting his best friend dead as they fooled around with a gun.
Dean Eastham shot Louis O'Brien, 17, at point blank range through the heart at his Huyton home in January.
Liverpool Crown Court heard the pair had earlier taken photographs of each other posing with the revolver.
Judge Henry Globe QC said he accepted Eastham did not know the gun was loaded.
Eastham, who had been smoking cannabis with Louis and another boy, fled shortly after the shooting. His friend bled to death, the court heard.
'Gun glamour'
Eastham left his home in Hathersage Road, Huyton, dumped his clothes over a wall, hid the gun and vanished for five days before handing himself in.
Judge Globe QC, the Recorder of Liverpool, told him: "Instead of being fearful of the gun you were play-acting with it and pretending to be big.
"This was no toy, it was a real gun.
"The disturbing feature of the photographs is that they portray an element of perceived glamour derived from holding a real gun."
He added: "You did so failing to take any steps to check if it was loaded.
"You did so in circumstances where you were smoking cannabis, an unlawful activity in itself."
Defending Eastham, Nigel Power, said the killer was devastated by his best friend's death and was physically overcome when he tried to talk about it.
He said the author of Eastham's pre-sentencing report "described him as still being in mourning".
Eastham who was given an Asbo for bad behaviour just weeks before the incident, refused to tell detectives where he stashed the Ruger revolver - choosing instead to tell other Liverpool gangs where it was.
He was sentenced to five years' detention after admitting possession of a prohibited weapon, perverting the course of justice and manslaughter on the grounds of an accidental killing.
The court heard the 16-year-old had a number of past convictions, including threatening a shopkeeper with an imitation firearm.
Judge Globe said although he accepted Eastham had not realised the gun was loaded, he did not accept his version of events which suggested the two boys had "fought" over the gun seconds before the trigger was pulled.
He said the story was unlikely because there was no shot residue on the victim's hands or clothing.
Mr Globe added that "considerable pressure" also had to be applied to pull the revolver trigger, though he accepted that Eastham did not know it was loaded.
Louis' parents, Mark O'Brien and Shirley Spendlove, released a statement after the hearing where they said there will never be "fitting justice" for their son's death.
"It is the deepest tragedy to lose a loved one in such horrific circumstances.
"Words can't express the pain we feel and there will never be a fitting justice for our son Louis.
"His life was cruelly and prematurely taken way and our lives will never be the same."