Culvert pollution is investigated in North Lincolnshire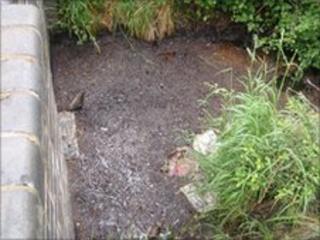 Pollution in a culvert in North Lincolnshire is being investigated by the Environment Agency.
The thick, oily substance in a drainage culvert between the villages of South Killingholme and Ulceby Skitter was spotted by a member of the public.
An investigation by the Environment Agency has been ongoing since 9 June, but its source has not been traced.
The agency is appealing for information that may help identify where the substance has come from.
Samples have been taken from the drain, which is located between the railway line and a private track - West Middle Mere Road - near to a gas substation.
The team investigating the pollution incident are particularly keen to hear from anyone who may know who owns a disused airfield located nearby or has any historical drainage maps of the area.
Anyone with any information should contact the Environment Agency. The agency said all information would be treated in confidence.