Lifesaving hope of north Wales doctors' charity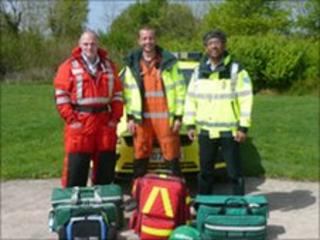 Volunteer doctors will support paramedics at major north Wales incidents with the aim of improving survival rates in rural areas.
Doctors will be alerted alongside the Welsh Ambulance Service to accidents like fires, crashes and mountain falls.
The North Wales Emergency Doctor Service will be manned by GPs and will rely entirely on charitable donations.
Ahead of the launch in St Asaph, charity chairman Dr Suman Mitra said he hoped it would help to save lives.
He said: "We have already started attending call-outs and it seems to be working well so far.
"The main challenge is the geography of north Wales - it's such a vast area with six counties to cover.
"We want to be able to attend the scene, help the paramedics who are already providing a superb service and get those patients to hospital in the minimum time possible," said Dr Mitra, a consultant anaesthetist at Ysybty Gwynedd, Bangor.
The idea behind the charity is that immediate care in the "golden hour" after a serious accident can be crucial in ensuring survival or recovery.
Evidence shows that doctors trained in trauma and pre-hospital care can significantly improve outcomes when helping paramedics with trauma victims.
Dr Mitra said the launch was all about sharing information with the emergency services, local politicians and existing volunteers and trying to raise awareness.
Four doctors - in Wrexham, Conwy, Gwynedd and Denbighshire - are already signed up, but it is hoped more funds can be raised to increase membership.
Extra funding needed
They will volunteer in their free time, or during hospital "downtime" and have so far had to pay for their own basic equipment, which costs around £2,000. However, advanced equipment and training cost in excess of £15,000, so extra funding is needed.
The doctors are notified at the same time the ambulance service receives a 999 call and, providing they are not tied up with surgery or hospital duties, they can respond.
The aim is to eventually have enough doctors signed up to the service that it is always able to help.
Joining Dr Mitra is GP Mike Bloom, who lives in Conwy and works in Llanfair PG, Anglesey; Dr Ben Warrick, based at Ysbyty Glan Clwyd in Bodelwyddan and A&E consultant Dr Aruni Sen in Wrexham.
Conwy councillor and former police officer Phil Edwards said: "I used to be a traffic officer so I know how valuable it is to have expert medical assistance on the scene.
"Paramedics do a superb job but when the injuries are so severe a service like this means doctors with specialist training can be on the scene to prepare patients for being admitted at hospital. It gives people a better chance of survival."
The charity fundraising lunch will take place on Sunday at 1330 BST at The Oriel Country Hotel in St Asaph.
It will follow a fly-past by the RAF 22 Squadron.