Vandals make Swindon skate park unusable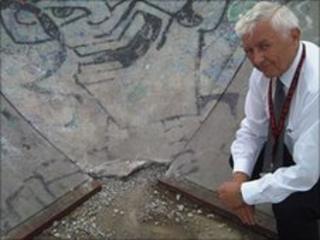 Vandals have caused damage estimated at £10,000 to a skate park in Swindon.
Police said vandalism was not a major problem and described the damage to the Walcot skate park as "a blip".
The metal sheets which allowed skaters to get on to the concrete ramps have been removed and the concrete itself smashed.
Terence Hayward, who fought to build the skate park, said: "I was on the committee for getting this skateboard park. It makes me sick."
Mr Hayward, of the Swindon Walcot and Parks Community Group, said: "We spent six years figuring out the best way to spend the money and we had a lot of opposition from residents."
He said the majority of youngsters using the park were "honest young lads getting fit and keeping away from crime".
But he added: "We've also got the element that don't like to see them enjoying themselves and getting fit. Those are the ones we've got to sort out."
A Swindon council spokesman said the cost of the repairs did not exceed the insurance excess of £50,000 so it would need to be paid for.
He could not say when the repairs would take place.
Walcot councillor Peter Mallinson said: "I feel quite sorrowful there are people around who want to do this.
"There are a lot of good people around here who want to help and want to improve their community, but in amongst that there's a rogue element."