Life of a mercurial Flash Harry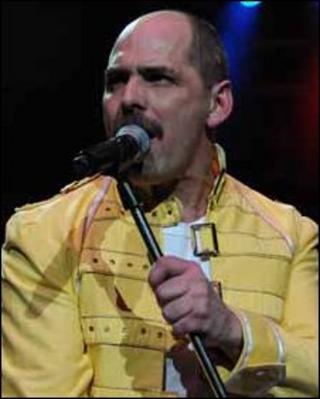 As front man for Queen tribute band Flash Harry, Harry Hamilton has entertained thousands of fans in Belfast's Odyssey Area and the Albert Hall in London.
Earlier this year, however, he threw his hat into the political ring in a bid to wrest the Westminster seat from sitting Democratic Unionist MP David Simpson.
Although well established on the pop scene, Harry Hamilton found he was starting from scratch after becoming a candidate for the Ulster Conservative and Unionist Party in the Upper Bann constituency.
The entertainer from Lurgan, County Armagh, faced with the chance to express his passion for politics and concern for his community, did not hesitate to put his career as a leading tribute artist on the line.
Harry's campaign theme song could well have been 'Don't Stop Me Now' as he combined the roles of aspiring politician and entertainer with being a husband and father.
The story of his entry into the cut-and-thrust world of politics is depicted in the BBC Northern Ireland documentary, For Queen and Country, to be screened next week.
The cameras follow Harry during the hustings and provide a fascinating behind-the-scenes view of his campaign as he goes on the stump or plans his strategy in the front room of his sister Elaine's house.
The tension mounts as canvassing intensifies and Harry prepares for the count, the result of which will decide whether his career takes a new direction or he continues to tell Flash Harry fans: "We Will Rock You."
In the event, Harry came a respectable second with 10,639 votes to David Simpson's 14,000.
"Certainly I'm disappointed. We genuinely thought we could swing it, although we got a sense of the result as the end of the campaign came closer," he said.
His passion for politics undiminished, he intends to seek his party's nomination for the Upper Bann seat in next year's Assembly elections.
He had, he said, been encouraged to run again after a "lot of people took time out to contact me and say they thought I did well" in the Westminster election.
Pointing out that almost 45% of the Upper Bann electorate did not turn out to vote, he said: "A lot of time and effort has been spent creating a profile for myself and I want to utilise that."
In the meantime, Harry plans to continue wowing Queen fans while fronting Flash Harry. The group is scheduled to appear at the Waterfront Hall in Belfast in the autumn.
"We will take it step by step. What happens on the entertainment front will be dictated by what happens in politics," he said.
For Queen and Country was broadcast one BBC One NI on Monday, 5 July.