Cleaner who raped disabled Edinburgh woman jailed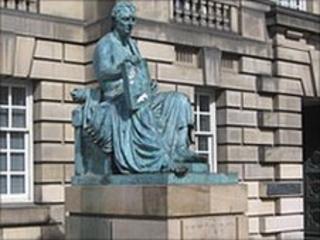 A cleaner who raped a disabled woman in her home despite her repeated pleas for him to stop has been jailed.
William Melvin attacked his 36-year-old victim, who has suffered from cerebral palsy since birth, at her home in Edinburgh.
The court heard that Melvin carried out the rape in June last year after befriending the woman.
Judge Lord Doherty jailed the 50-year-old, who was described as having learning difficulties, for four years.
The judge told the High Court in Edinburgh: "You have pled guilty to a charge of rape. The rape was of a vulnerable woman.
"It was made worse by the fact that you were someone she trusted and you breached that trust and did so in her own home."
He added: "Mercifully the information placed before me indicates she is coping reasonably well with the aftermath of that offence, but that is fortuitous."
Watch TV
At an earlier hearing, prosecutor Alison Di Rollo said Melvin and his wife had befriended the woman and regularly visited her home.
Melvin, from the Polwarth area of the city, would also watch TV in the victim's house, particularly football matches.
During the evening of 28 June he told her he was going to the bedroom because there was a larger television set there.
The woman followed him and sat on the bed.
"He told her to remove her top to which she replied 'No thank you'," said Ms Di Rollo.
He then attacked and raped her.
Medical check
The court heard that the offence came to light some days later when the woman phoned her mother, asking her to tell Melvin's wife that she didn't want Melvin in her house because he had been "touching her".
When questioned by police, Melvin tried to deny having sex with the woman but changed his story when told about the results of a medical check.
He then said she had been a willing partner but finally admitted he raped her.
In addition to being jailed, Melvin was placed on the sex offenders register for life.