Mercedes crashes through London car park wall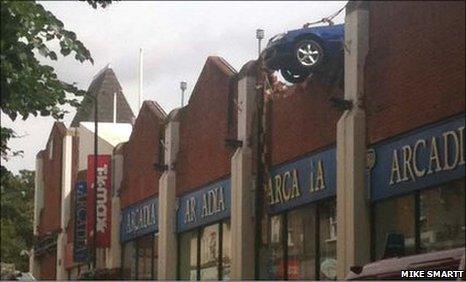 A Mercedes car was left hanging off a roof after it crashed through the wall of a shopping centre in west London.
The Metropolitan Police (Met) said the incident happened at 1015 BST, on the first floor car park at the Arcadia shopping centre in Ealing.
Luckily, the driver managed to clamber out of the vehicle and was unhurt.
An Arcadia shopping centre spokeswoman said an elderly lady had been driving the car, but the Met is yet to confirm who was in the vehicle when it crashed.
The car park is about 50ft (15.24m) above the ground.
London Ambulance Service said they treated a man in his 60s who was taken to Ealing hospital with minor injuries.
James Lilley, 23, a shop assistant at HMV near to where the incident happened, said: "I heard something drop outside and looked out of the window. An old man had just walked past.
"Then there was a massive crash and I saw brick work fall to the floor.
"It just missed the old man. He turned around and looked back like his life flashed past him. He was so lucky.
"I looked up and a car was hanging from the roof."
Tariq Ali, 32, a HMV loss prevention officer, who was alerted by Mr Lilley, described the scene as like 'something from a James Bond movie.'
He said: "I ran outside and saw the car hanging.
Referring to the driver, the shopping centre spokeswoman said: "She was parking and thought she'd hit the brake but hit the accelerator.
"She thought the brakes had failed and hit the accelerator again and careered through the wall."
The area was cordoned off and Spring Bridge Road was closed.
London Fire Brigade crews attended the scene, securing the car and moving it to a safe position.
The shopping centre and the car park has now been reopened.
Related Internet Links
The BBC is not responsible for the content of external sites.