Missing child sex offender William John Paden remanded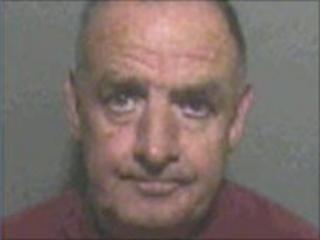 A convicted paedophile from the UK has been remanded in custody for a week following his arrest in the Irish Republic on Wednesday.
Police had been searching for William John Paden since he left an address in Blackpool, Lancashire last week.
Paden, of no fixed abode, appeared before Cavan District Court on Thursday.
He was charged with failing to notify police of his address and was remanded in custody.
Gareth Fortune, solicitor for Paden, said there would be no bail application but one may be made next week.
Mr Fortune asked Judge Patrick Clyne to recommend the accused be detained in Cloverhhill Prison and that he receive appropriate treatment.
Judge Clyne remanded the accused to appear back at Cavan District Court next week.
Paden has 19 sexual convictions, including rape and indecent assault on a child.
He was arrested in the town of Ballyhaise at about 1600 BST on Wednesday
He is banned from associating with children unless they are accompanied by an adult aged 21 and upwards.