Day off school for Royal Norfolk Show to be trialled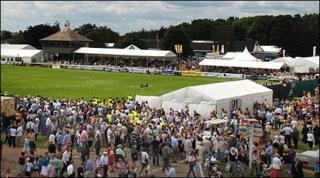 Norfolk students are to be given the day off school to go to an annual agricultural show, because so many of them are playing truant to attend it.
Norfolk County Council said it would allocate a holiday next year to coincide with the Royal Norfolk Show.
It will be trialled over two years with the second day of next year's show to become an official school holiday.
The council said it would then look at the feedback to see if the changes have been a success.
Alison Thomas, Norfolk County Council's cabinet member for children's services, said: "Some schools, particularly those in mid Norfolk, have told us that the show impacts on attendance and asked us to look at our term dates.
"In order to be helpful to parents and schools we have therefore changed our school holiday dates next year to designate the second day of next year's show as a school holiday.
"There will still be 190 term dates, with schools able to set their inset days outside of these dates."