Devon Smooth snake re-introduction 'successful'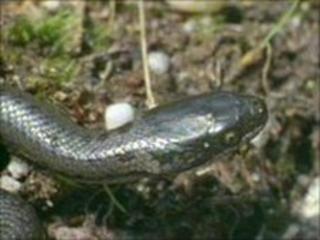 A project to reintroduce Smooth snakes to Devon has been successful, according to conservationists.
Last July, the reptiles were taken from Dorset to restored RSPB heathland in Devon after a 50-year absence.
Nick Moulton, from Amphibian and Reptile Conservation, said: "It's gone pretty well, it's been a cold winter and extremely hot summer."
He said: "We know the animals have successfully hibernated and initially it looks really good."
Mr Moulton said it was now a "question of time to see if the animals can breed".
The RSPB monitors the restored heathland, which provides the non-venomous snakes with the correct food as well as warmth and areas for them to bask in the sun.
Dr Chris Reading, from the UK Centre for Ecology and Hydrology, said: "The big thing that we have to be careful about is relocating snakes to an area where they once were.
"We don't want to put snakes back into places where they will just decline again."
The secretive reptile was last recorded in Devon in the 1950s, but disappeared after the loss of its natural habitat.
Wildlife resurgence
Conservationists are moving more Smooth snakes from Dorset to Devon this summer to boost the numbers on the heathland.
Prior to the project, the snakes were only found on lowland heaths in Sussex, Surrey, Hampshire and Dorset, and due to the snakes not being very mobile they did not naturally re-colonise isolated heath sites.
The restored heathland has also led to a resurgence of other wildlife including Dartford warblers, nightjars and silver studded blue butterflies.