Topping out ceremony for Guildford entertainment venue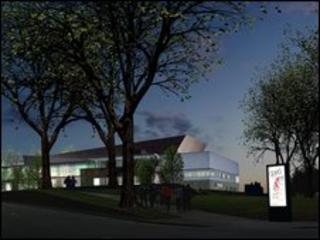 The building of a new entertainment venue for a town centre in Surrey is being marked by a topping out ceremony.
Work on the Civic site in Guildford, designed by architects Austin-Smith: Lord, is on schedule, with the opening set for autumn 2011.
The event marks the ceremonial placing of the top brick on the highest point of the building.
The £26m venue will provide a 1,700-capacity auditorium, a 150-capacity studio theatre and conference rooms.
It is being built on the site of the old Civic, which has been empty since 2004.
When complete, it will host a programme of entertainment including all types of music, comedy and family shows.
The building will also offer corporate facilities for businesses as well as a wide range of community activities.