Planners deny Sueco permission to erect marquee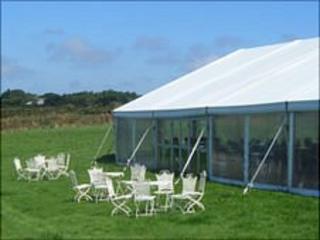 A Guernsey catering company has been denied the right to continue running its business in a south coast field.
A planning tribunal rejected an appeal from Sueco Outside Catering to use a marquee on the Icart headland.
Planners originally ruled the marquee was an eyesore, a misuse of agricultural land and caused noise and traffic.
Peter Yates, managing director, said he had not yet made a decision regarding the company's future activity.
The catering firm had used the marquee for six years, providing a venue for functions such as wedding receptions.
'Reputation untarnished'
New laws introduced in April 2009 meant Sueco had to formal apply for permission to have the marquee in the field.
When this application was refused a petition was started against the ban and the company decided to appeal against the tribunal's decision.
In making its decision the planning tribunal only took into consideration matters that were before the Environment Department, which is responsible for planning, when it made its original decision.
Mr Yates said: "Unfortunately, the appeal was unsuccessful. If there is any encouragement to be gotten from this decision it is that our reputation for running a well managed, professional event operation remains untarnished."