Plans for £30m Lincoln engineering school approved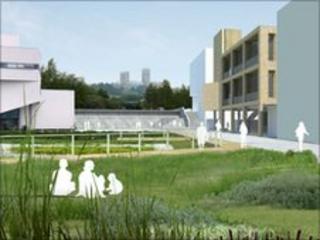 Plans for a £30m engineering school at the University of Lincoln have been approved by city councillors.
With funding for the project already in place, officials are hopeful the building will be open next summer.
Pro Vice Chancellor Professor Andrew Atherton said the school would create a "phoenix out of the flames" for a declining engineering industry.
Mr Atherton said students would be equipped to work in the engineering industry in the 21st Century.
Research and development at the school will be a key part of the work, which Mr Atherton said had already attracted the attention of motor manufacturers and aerospace companies.
He said: "This engineering school is in close partnership with Siemens Industrial Turbo Machinery and they have been investing in their future technology development to keep active.
"We've also had some very interesting approaches from global automotive manufacturers and aerospace as well.
"It will bring new opportunities into Lincoln, as well as work for existing businesses in Lincoln."
Mr Atherton said the school would focus on "power, energy and mechanical engineering".
"We have a whole host of projects ranging from how aircraft land at Heathrow through to the next generation of gas turbine technology," he said.
Students studying engineering will benefit from the purpose-built school as they are currently based in a centre a short distance from the university, a spokesman added.