Coalition government in Cardiff marks third anniversary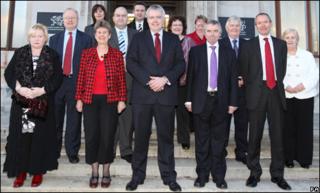 With the UK still getting familar with the concept of coalition government at Westminster, the 'One Wales' programme which brought Labour and Plaid Cymru together in government in Cardiff Bay is three years old on Thursday.
Given a history of often intense rivalry between those parties, many believed their union would be short lived.
Three-quarters of the way through the programme, the coalition claims to have met more than three-quarters of One Wales' 220 pledges.
But opponents say it has failed to set out a coherent vision for Wales.
In the past 12 months the coalition in Cardiff Bay has undergone a very significant change, with the election of Carwyn Jones to replace Rhodri Morgan as Labour leader.
During that period it delivered a number of One Wales promises: a nurse for every school, the extension of the free swimming scheme and the unveiling of a plan to charge for single use carrier bags, for example.
Looking further back, the coalition would count as successes the play-based Foundation Phase for 3-7 year olds and Edwina Hart's reform of the NHS, replacing a multitude of NHS Trusts and Local Health Boards with a streamlined structure.
Greeting the coalition's anniversary, the First Minister said: "At various times in the last two years we've been asked as a Government what One Wales commitments we would drop in response to the recession.
"Well, we've delivered the majority of One Wales commitments already. And we're pressing on with the rest."
The Labour-Plaid relationship
The relationship between the two parties making up the Welsh assembly government appears to have been largely harmonious.
Although Carwyn Jones was at the centre of one notable recent flashpoint.
His decision to block Cardiff council's plans to shut an English-medium primary and move pupils from an overcrowded Welsh-medium school (Ysgol Treganna) to its site proved deeply unpopular with many within Plaid.
Plaid Cymru education spokesperson Nerys Evans called the decision "an absolute outrage" and said it denied parents the right to educate their children through the medium of Welsh, thereby contradicting a flagship government policy.
There were other some other tensions over the question of the timing of the referendum on full law making powers in devolved areas promised by One Wales, when Labour was in power at UK level.
A common enemy?
Those have lifted with the advent of a Conservative - Liberal Democrat administration at Westminster.
It appears there is nothing like a common enemy to bring parties closer together, and the two Mr Jones presented a convincing united front against George Osborne's recent Budget proposals.
They have also ended their third year with an unexpected fillip in the UK Government's decision to put aside opposition to the assembly government's bid for more powers over housing in Wales.
The sticking point - the question of whether powers over the right to buy council houses should be devolved - has been put aside in what Wales Office Minister David Jones called "pursuance of the spirit of mutual respect".
'Coalition has failed'
David Jones' colleague and Welsh Conservative Leader Nick Bourne is, however, adamant that the coalition has fallen short.
Mr Bourne said: "It has failed to set out a coherent vision for developing a strong and stable economy which embraces the private sector and reduces the gap between rich and poor."
He also thinks it has failed to ensure that Welsh patients are treated as quickly as their English counterparts, or that spending on Welsh pupils matches that on those across the border.
For Welsh Liberal Democrat Leader Kirsty Williams a failure to tackle child poverty is emblematic of a wider failure.
She said: "Since Labour and Plaid Cymru formed their coalition, the number of people living in poverty has increased and even now they have no concrete plans...to get to grips with this social injustice."
Whatever one's view of One Wales' relative success or failure, the months leading to next May's National Assembly election should be intriguing.
If we did not know how Labour and Plaid would work together in the Assembly, then neither do we know exactly how they will disengage.