Ucas to review university entry points system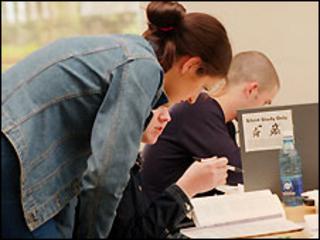 The A-level-based university admissions system is to be reviewed to reflect a broader range of qualifications.
Currently, applicants to universities in the UK are given a points score, with values allocated to qualifications based on their equivalence to A-levels.
But the admissions body Ucas said the system did not cover all qualifications, or rate their relevance for the chosen course.
About half of UK applicants do not have A-levels, up from a third 10 years ago.
The review will take between 18 and 24 months, Ucas said, so will not affect applications during 2010 and 2011.
Currently, a range of qualifications from Scotland, Northern Ireland and Wales, as well as the International Baccalaureate and Btec vocational qualifications, are included on the points tariff.
But Ucas said not all qualifications used on applications were covered.
'More rounded picture'
Ucas said it was concerned the tariff system was being used for purposes for which it was not intended.
Scores can be taken at "face value", meaning that "neither applicants nor institutions gain a full understanding of a qualification's suitability", the body said.
It said the current system did not show how a particular qualification could be more appropriate to support admission to some courses than others.
And it also said there was evidence that some graduate recruitment schemes were using the points scores as a selection tool, which was not the intention of the tariff system.
Ucas spokeswoman Lisa Davies said the aim was "to provide Higher Education Institutions with more information about a wider range of qualifications, to give a more rounded picture of what each applicant looks like"".
This might include some way of reflecting extra-curricular activities, she said.
Universities and Science Minister David Willetts said: "I'm very pleased Ucas are undertaking this review, because our universities admissions system needs to recognise the full range of modern qualifications, including apprenticeships.
"It is important to ensure that we value both academic and vocational qualifications, provided they are rigorous."
Dr Wendy Piatt, Director General of the Russell Group of research-intensive universities, welcomed the reviewing, saying the tariff system was "urgent need of reform".
"More detail is needed to assess whether applicants are adequately prepared for individual degree courses," she said.
With rising numbers of applications - but pressure on public spending limiting university places - competition is high.
With the spending cuts stopping university expansion, this summer will see an unprecedented number of applicants failing to get a place on a degree course.