Toy guns seized at Nottinghamshire market stall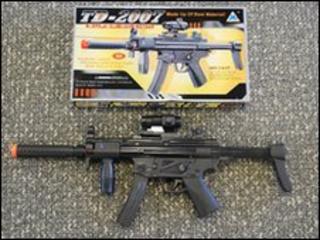 Toy guns described as "dangerous" have been seized by trading standards officers from a Nottinghamshire market.
The guns, which contain strong red laser beams thought to be 17 times more powerful than legally allowed, were discovered in the north of the county.
Trading standards warned they should not be sold as a toy for children for fear of causing eye damage.
Officers believe there could be more available and are warning people to report any that are seen for sale.
'Potential injury'
Samples of the guns have been submitted for testing.
The county council's trading standards team believe they are identical to items analysed in Suffolk which were also found to contain a laser 17 times stronger than the legal limit for a toy.
The market stallholder is currently "under investigation", a council spokeswoman said.
Councillor Mick Murphy, cabinet member for community safety at Nottinghamshire County Council, said: "We are concerned that a number of the toy guns have already been sold to Nottinghamshire consumers and are issuing this warning to retailers, parents and carers to avoid any potential injury to local children."