River Tweed otters killed in poaching net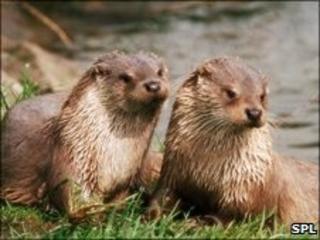 Police are hunting for poachers after two otters were found dead in an illegal net on the River Tweed.
Water bailiffs found them at Horncliffe in the Scottish Borders on Monday.
As well as the otters, the net also contained 13 dead sea trout and a dead cormorant. It is believed the trap had been in place for up to two weeks.
Otters are a protected species under European law and, along with cormorants, are protected in Britain under the Wildlife and Countryside Act.
Salmon and sea trout are protected under the Salmon and Freshwater Fisheries Consolidation (Scotland) Act.
'Tragic incident'
Police have appealed for anyone with information that can help trace those responsible for the poaching net to come forward.
Wildlife co-ordination officer, Pc Ruaraidh Hamilton said: "This sort of tragic incident displays the reckless nature of poachers who put nets across rivers.
"Otter numbers went into rapid decline during the 50s through to the 70s and as such are protected under European legislation.
"They feed on the fish within the river and would have been attracted to the dead trout within the net before being caught themselves and drowning."
He appealed for anyone with information to contact police or leave information anonymously with Crimestoppers.