Kilmarnock College plan for doomed Johnny Walker plant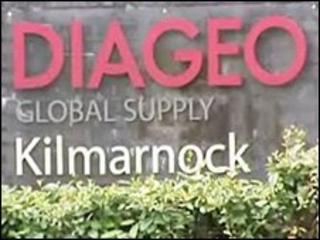 A college campus could be opened on part of the doomed Johnnie Walker site in Kilmarnock which is due to close with the loss of 700 jobs.
Drinks giant Diageo, which owns the plant, has agreed in principle to donate about eight acres of the 31-acre site to Kilmarnock College.
Last year the firm announced plans to close the bottling plant by mid-2012.
The restructuring move will also see Glasgow's Port Dundas distillery close with the loss of a further 200 jobs.
Diageo has held a series of meetings with the Kilmarnock College and East Ayrshire Council to address a number of matters that could clear the way to handing over the land at Hill Street.
The firm's managing director, Bryan Donaghey, said Diageo was "immensely impressed with ambitions for the future of the college and Kilmarnock".
"We have a number of detailed issues to work through, but Diageo wants to be involved in facilitating this very important development for Kilmarnock and we are working closely with the college and the council to help make it happen," he said.
Kilmarnock College principal and chief executive, Heather Dunk, said: "This partnership will greatly help the college to proceed with its plans to develop a world-class campus in the town.
"The relocation of the college to this site will help provide high quality learning for generations to come.
"It will also be significant in creating a vibrant heart of the town."
'World-class campus'
Diageo's plans to close the Kilmarnock site and its Glasgow distillery were fiercely opposed by unions, politicians and local people.
A business case, developed by the Scottish government, to keep the Ayrshire site open was rejected by the firm in September - effectively severing the link that Kilmarnock has had with the Johnnie Walker brand since 1820.
In the aftermath of the decision a "Make it Kilmarnock" task force was set up to try and alleviate the economic impact that the closure would bring.
It was through the task force that the college targeted the site for development.