Lawyer cleared of Ritz hotel £250m sale fraud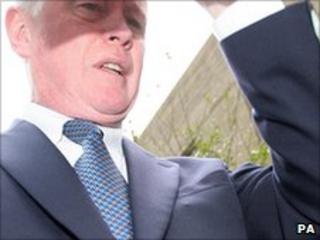 A solicitor has been cleared of trying to fraudulently sell the Ritz hotel in central London for £250m.
Conn Farrell, 57, was one of three men at Southwark Crown Court accused of defrauding financier Marcel Boerkhoorn and property dealer Terence Collins.
The trio were accused of making false promises to potential buyer Mr Collins who handed over a deposit of £1m.
A jury is considering its verdicts on Anthony Lee, 49, and Patrick Dolan, 68, who deny conspiracy to defraud.
It took a jury 13 hours to clear the lawyer from Aldershot, Hampshire, after a four-week-long trial.
Mr Farrell who had always maintained he was simply acting on the instructions of the other defendants, was cleared of conspiracy to defraud.
The jury has been sent home for the night and will continue its deliberations on Friday.
'Complete fantasy'
Southwark Crown Court had heard Mr Lee, of Goole, East Yorkshire, convinced the alleged victims he was "a close friend and associate" of the billionaire Barclay brothers, who own the Ritz.
The court was told an "intricate web of deception" led them to promise a sale which was "a complete fantasy".
Mr Dolan, of Tottenham, north London, has insisted the payment they received was nothing to do with the hotel, saying it related to a separate property deal.
Prosecuting, Anuja Dhir QC told the court the alleged fraudsters "chose their marks well", targeting people who were interested in the high-stakes world of dealing in trophy properties.
She said: "The prosecution case is that these defendants were involved in a simple but well-targeted and ambitious scam.
"They promised their targets something that seemed to be too good to be true - the opportunity to buy the Ritz Hotel and Casino in Piccadilly for the bargain price of £250m."