Two charged after south Armagh smuggling raid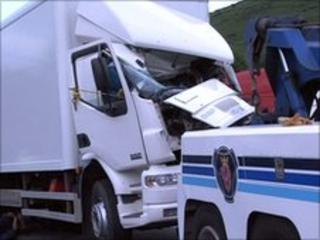 Two people have appeared in court on charges linked to an incident in which two police officers were knocked down.
One officer is still critically ill after being hit by the lorry during an anti-smuggling operation near Meigh.
James Francis McDonnell, 38, of Ferryhill Road, Newry, and a 17-year-old who cannot be named appeared in Newry Magistrates Court.
The two were charged with withholding information, concealing criminal property and evasion of customs duty.
Police on both sides of the Irish border are searching for the driver of the lorry which struck the police officer and a colleague.
Seven million cigarettes were recovered in the operation in south Armagh.
It is understood that over the weekend a cargo of smuggled cigarettes arrived from China at Dublin Port.