No manslaughter charges after Hattersley collapse death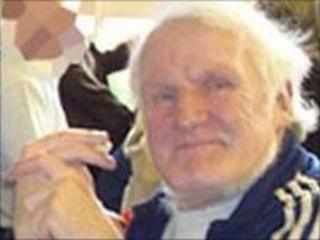 Two teenagers arrested on suspicion of the manslaughter of a man who collapsed outside his Greater Manchester home will not be charged, police said.
David Askew, 64, was found dead in Melandra Crescent, Hattersley, in Greater Manchester, on 10 March.
Tests have found Mr Askew died of heart failure due to a long-standing health condition so prosecuters dropped the case against the pair, 17 and 18.
An 18-year-old man is still facing a harassment charge, police said.
That man, Kial Cottingham, also of Melandra Crescent, is due to stand trial in September.
Police said that charge related to incidents alleged to have happened between 25 January and 10 March.
The first post-mortem examination on Mr Askew, who had learning difficulties and lived with his mother and brother, proved inconclusive.
However, further reports found he died as a result of heart failure.
This was caused by long-standing heart disease which was exacerbated by undiagnosed oesophageal cancer, police said.
'Tragic death'
Det Insp Chris Bridge, of Greater Manchester Police, said: "Further tests have revealed David died as a result of natural causes and following the advice of the Crown Prosecution Service (CPS), there is insufficient evidence to pursue prosecutions for manslaughter.
"However, we are continuing to work with local officers and our partner agencies to look at other avenues such as giving anti-social behaviour orders to a number of people who have been involved in incidents involving David."
Vanessa Thomson, CPS reviewing lawyer, said: "Having carefully reviewed a file of evidence presented to me by Greater Manchester Police and applied the Code for Crown Prosecutors, I have concluded that there is insufficient evidence to bring charges of manslaughter against any individual in relation to the tragic death of Mr David Askew."
Greater Manchester Police has voluntarily made a referral to the Independent Police Complaints Commission about the incident, because police had contact with Mr Askew's family in the months before his death, a spokesman said.