Telford woman loses breast after cheaper surgery abroad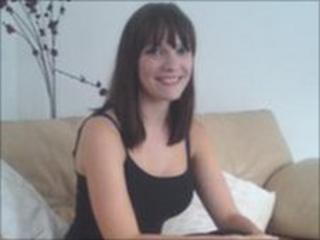 Women who opt for cheaper plastic surgery abroad may be putting themselves at risk, if they need post-operative care, a medical body warns.
The British Association of Plastic, Reconstructive and Aesthetic Surgeons (BAPRAS) said more patients needed NHS care after holiday surgery.
Tanya Bennett from Shropshire had to have one breast removed after an infection following surgery in Belgium.
Hamish Laing of BAPRAS said her case was not uncommon.
Ms Bennett said the temporary building in Brussels where she had her breast enlargement surgery, had looked like a construction site.
She said she had been attracted to the clinic because it cost half the price she had been quoted in the UK and was relatively easy to fly to from her home in the Hadley area of Telford.
'Holes in walls'
The 21-year-old said: "When I got there I was expecting what I had seen in the brochure and I think my face just dropped.
"There was a crane in the back, mud hills everywhere, a portakabin on the front, holes in the walls, plaster everywhere. I went into reception, no-one explained what was going on and they quickly took my money."
"I woke up and all the surgeons left, no-one spoke to me or said how it had gone," she added.
Three weeks after returning, her incision scar came open as she was in a supermarket.
British doctors initially thought it was a bruise that had burst.
Mr Laing said: "Our members are telling us they are seeing more and more patients who have gone abroad for surgery and are turning to the NHS when they get back."
The consultant plastic surgeon said she would not have been eligible for the surgery she had in April on the NHS but it was having to fund the costs of her aftercare.
He said BAPRAS was not criticising the standard of foreign surgeons' work, but pointing out that patients who chose to have surgery abroad often found it difficult to return for check-ups, which meant if they had any problems, they were being picked up at a more serious stage by the NHS.
Mr Laing said: "It can be cheaper to have the surgery abroad but you have to ask why? The cost here covers any problems with after care too."