Travellers told to restore illegal site at Beausale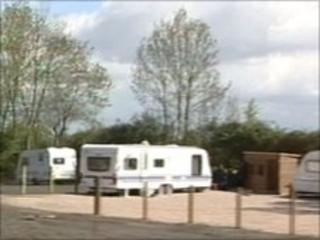 Travellers living on an illegal encampment in Warwickshire have been told they must quit the site.
The group moved on to a field they own in Kites Nest Lane, Beausale, near Kenilworth, just before the May Day bank holiday.
They now plan to appeal after Warwick District Council told them they could not develop the green belt land.
They have been given 12 months to return the site to its original state.
Sally Woodbury, of the Friends, Family and Travellers group, said: "Hundreds of houses are being built in England, including Warwickshire, and including a large housing estate near to the site that's been built in recent years, but they can't find 22 pitches. It's an absolute disgrace."
Lianne Broadway, one of the travellers living on the site, told BBC Coventry and Warwickshire they were very frustrated by the decision.
She said: "We're very disappointed. We funded it ourselves trying to do the best we can, hoping to put more hedgerows up and do whatever they want just to have a home."
But Richard Ellison, who lives near the site, welcomed the decision.
He said: "We would have liked a shorter enforcement period but it was the recommendation.
"We hope the extended enforcement period means the prospects of an appeal are much less likely."