Row for Heroes pair set world record around Britain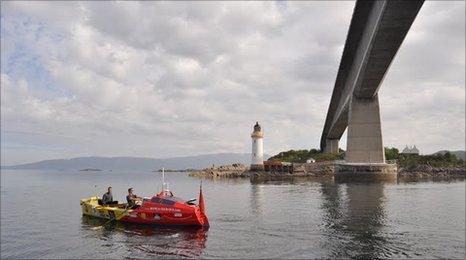 Two Army doctors have set a new world record for rowing non-stop and unsupported around Britain.
Captains Hamish Reid and Nick Dennison, of the Royal Army Medical Corps, set off on the Row for Heroes challenge in May.
The pair crossed the finish line on the Solent near Lymington Yacht Haven, Hampshire, at about 1500 BST, after 50 days and five hours at sea.
They were welcomed with a flypast and by a flotilla of boats.
The pair hope to raise £20,000 for charities Help for Heroes and The Army Benevolent Fund.
The flypast was of Royal Naval lynx helicopters, while the flotilla included an RNLI lifeboat.
Capt Dennison said: "It's absolutely wonderful to be back and to have the navy turn up with a helicopter and the RNLI with a lifeboat is very special.
"My legs are a bit wobbly now but it's great to be back on terra firma."
The 28-year-old said that the pair had feared at points during the journey that they would not be able to complete the challenge.
He said: "There were a few low points especially off south-east Ireland as the wind blew us from the north for several days and we were concerned we wouldn't have enough time and food to finish.
"It's such a fantastic sense of achievement to have finished, it's something that hasn't been done before and people with experience told us it probably couldn't be done."
Earlier Capt Dennison, 28, from Bristol and based at Bovington Camp, Dorset, told BBC Radio Solent: "It is going to be a really exciting finish this afternoon.
"It has been an incredibly tough time.
"Generally, we were really lucky [with the weather] we did not lose much time."
Capt Reid, also 28, from the Isle of Wight, is the Regimental Medical Officer of 22 Royal Engineer Regiment in Tidworth, Wiltshire.
The men started the charity challenge, which will also raise money for Army charities, in their 24ft (7.3m) rowing boat, Komale, on 12 May.
Setting off from The Needles, at the western point of the Isle of Wight, the pair have journeyed more than 2,100 miles (3,380km).
The officers also battled high seas, fierce winds and strong tides as they alternated between rowing two hours on and two hours off for 20 hours a day.
Related Internet Links
The BBC is not responsible for the content of external sites.