'Tombstoning' warning after man jumps from beauty spot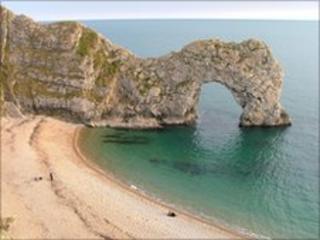 A coastguard has warned of the dangers of "tombstoning" after it scrambled its rescue helicopter when a man jumped from a coastal beauty spot in Dorset.
Police received calls at 1530 BST on Wednesday after the man climbed the 200 ft (61m) Durdle Door and appeared to be in difficulty.
The helicopter from Portland was sent to the scene but the man, thought to be aged about 18, leapt from the rock.
Portland coastguard Bruce Lack said the man was "incredibly lucky" to survive.
Mr Lack said: "At Durdle Door there is only one area of deeper water and if you miss this by a foot, you will land in shallow water."
He said the man had swam away safely but could not be traced.
The helicopter, which costs about £7,000 to scramble, was sent back to its base in Portland.
Mr Lack warned people not to take the risk after five people were killed last year after jumping from cliffs and other structures into the sea in a practice known as tombstoning.
"You do not know what is lying beneath the surface of the water and it is very difficult to gauge exactly where you jump."