Couple in Boughrood church DIY wedding bells fix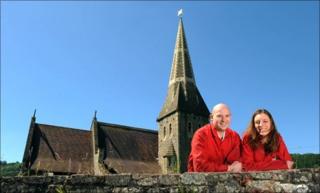 A couple who found the "perfect" Welsh church in which to marry have made sure they will hear wedding bells there - by overhauling the belfry themselves.
London-based Steve Edwards, 35, and Victoria Hope, 26, stumbled on St Cynog's church, Boughrood, near Brecon, while visiting family in south Wales.
Finding the bells were out of order they commuted 340 miles at weekends to fix the problem themselves.
"We were determined to get them working," said Mr Edwards.
Mr Edwards, a project manager with a City of London bank, said he and his fiancee, a personal assistant with a leading computer firm, were delighted to have found St Cynog's while driving through rural Wales.
But while arranging to be married there with the church's vicar, Rev Ian Charlesworth, they had learned that the bells had been out of action for more than a decade.
The belfry had been taken over by dozens of pigeons, the bells had seized and the ropes were tatty.
Undaunted, the couple decided to roll up their sleeves and fix the bells themselves, making the arduous round trip at weekends.
Between them they dug out almost a foot (30.5cm) of pigeon droppings from the floor of the bell tower and donned safety gear and breathing apparatus to clean it out with high-pressures hoses.
They also fixed up netting to keep the pigeons out and brought in an expert to get the three bells back in working order and replace the bell ropes.
"It was a messy job," he said.
"They had not rung for some years but we thought our big day would be compete if we had traditional wedding bells."
The pair, who have been together for five years, explained how they fell in love with the 19th Century church.
"It is perfect for us," said Mr Edwards. "The only problem was that the bells had been silent for some time after falling into disrepair.
"We asked the vicar if we could get them working again and he was delighted."
Community
Mr Edwards' ushers will ring the bells when the pair are married at the church in the village next April.
The pair now regularly travel from their home in Ealing, London, on Sundays to attend services at the church.
Miss Hope said: "We feel very much part of the community now - everyone has been very welcoming.
"I'm delighted we've got the bells ringing again, not just for us but for other couples getting married there.
"We just got on with the shovelling and cleaning over the weekends. It wasn't the most pleasant of jobs.
"But we felt a real sense of achievement when we heard the bells ringing out for the first time."
Rev Charlesworth said: "Steve and Vicky are a lovely couple and have really engaged themselves in all aspects of church life.
"I was delighted they could get the bell ringing again and evict the pigeons once and for all."
The couple will get married in the church followed by a reception at a nearby country house hotel.