Families' fears over prostitution in Walsall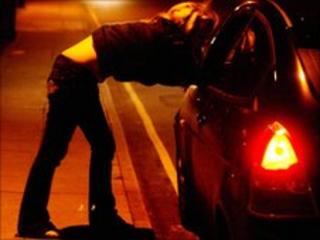 People living in Walsall say their lives are being ruined by prostitution despite a West Midlands Police operation to clean up the streets.
Suspected kerb crawlers have been targeted in the Caldmore, Palfrey, Pleck and Delves area of the town for the past 18 months.
A total of 127 drivers have received warnings and three cars have been crushed as part of the operation.
But residents have claimed it has had little effect.
Bashir Ahmed, who lives in Caldmore, said: "The problem is spreading in different parts of the borough.
"They go in the cul-de-sacs and it's all visible. All their rubbish is left in the street and no-one picks it up, the rain washes it away.
"It's really embarrassing with the children, you don't like going out in the street."
Under the crackdown, entitled Operation Nominal, any vehicle suspected of kerb crawling or which is being driven in a careless or inconsiderate manner, is stopped and details of the driver taken.
A letter is then sent to the registered keeper of the vehicle warning them if the vehicle is seen again in the area driving in the same manner, it will be seized.
Sgt Barry Greenfield said the initiative was started following concerns from residents. He added that targeting the kerb crawling was only the first phase of measures.
"We are working closely with partners at Walsall Housing Group and other outreach teams to encourage sex workers to move away from their lifestyle," he said.
"Once the demand is reduced we will, with other voluntary groups, enforce, educate and rehabilitate the women away from the trade to directly address the genuine concerns of neighbours."