Stuck man rescued from Weston-super-Mare beach mud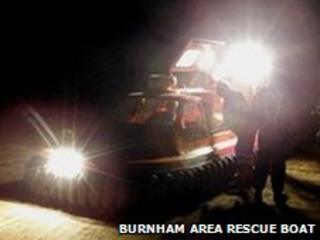 A 21-year-old man has been rescued after becoming stuck in mud a mile out to sea from Weston-super-Mare beach.
Rescue crews were called out in the early hours of Thursday after the man became trapped.
His location was pin-pointed by an RAF rescue helicopter, which illuminated a large area of the beach from overhead.
The man, was showing early signs of hypothermia, and was taken onboard Burnham-on-Sea's rescue hovercraft before being taken to hospital.
He was taken to Weston General hospital for further observations.
On Saturday nine people were rescued from the mud in three separate incidents while trying to reach the sea.
Speaking then, a Burnham-on-Sea rescue hovercraft spokesman said the service had had its busiest afternoon in its 19-year history.
The charity has helped and rescued more than 200 people in Somerset over the past 19 years.