London drivers asked about the level of parking fines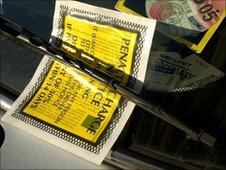 Motorists in London are being asked how much they should pay for parking fines.
People will also be questioned about what levels of fines should be imposed for entering bus lanes and box junctions, and how much it should cost to be released from wheel clamps.
It is part of a three-month consultation by London Councils and Transport for London (TfL).
A final decision will be made on 9 December with new charges coming into effect from 1 April 2011.
The amount of penalties charged is reviewed every four years.
The last consultation in 2006 resulted in the introduction of the two-tier parking system in July 2007.
This means all contraventions on TfL roads and the more serious infringements on London borough roads incur a higher penalty than other contraventions.
Londoners and other interested parties will be asked whether they think the two-tier system works or whether there should be a single level of penalty charge.
Chairwoman of London Councils Transport and Environment Committee, Councillor Catherine West, said: "We know that parking penalties are a contentious issue and we are encouraging everyone to have their say in this consultation.
"We must ensure penalties are at the right level to deter motorists from stopping the flow of traffic by parking illegally or carrying out dangerous manoeuvres which put other road users at risk.
"We also recognise motorists like everyone else are facing tough times and we want to be as fair as possible in parking enforcement."
The consultation runs from until 30 September 2010.
Related Internet Links
The BBC is not responsible for the content of external sites.