Newspapers shocked at Roger Federer's Wimbledon exit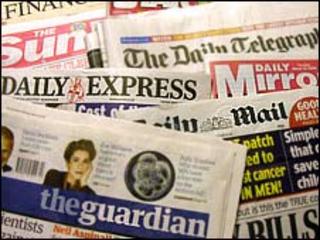 The dejected face of former Wimbledon champion Roger Federer appears on several front pages after he was knocked out of this year's tournament.
"Roger and out" is the Times' succinct take on his shock exit.
Other papers focus on victorious Andy Murray - or his joyful girlfriend - after he made it through to the semi-finals.
The Sun's leader column thinks Murray showed "courage, effort and talent - qualities sadly lacking in our World Cup football quitters".
Unlikely support
Many of Thursday's papers react to Justice Secretary Ken Clarke's prison reform plans.
By admitting that jailing minor offenders "does nothing to make the public safer", he has released us "from a punitive orthodoxy", the Independent says.
Mr Clarke has also, perhaps surprisingly, won over the Labour-supporting Daily Mirror.
"We know his policy is motivated by the need to cut costs... but it makes no sense to put behind bars incompetents, idiots and other flotsam", it says.
'Bloated' state
The Daily Telegraph says it wants to put warnings about public sector job losses "into perspective".
The state is a "bloated impediment on the wider economy", and shrinking it "is imperative if this country is to regain its competitive edge", it says.
The prediction that two million new private sector jobs can be created is "not impossible, but looks severely testing", says the Guardian.
"To be fair to the Chancellor, he never said it would be easy," the paper adds.
No frills
The Daily Express leads with claims that passengers may soon be able to buy £5 standing tickets for flights on budget airline Ryanair.
The paper is not impressed: "Somewhere to sit is surely not too much to ask" - even if it is cheap.
And anyway, "money isn't everything", says one Daily Mail story.
A poll suggests "it has only a small impact on day-to-day mood", and "family, friends and a fulfilling job all count more to happiness".