McCausland hails Ulster Museum Art Fund Prize win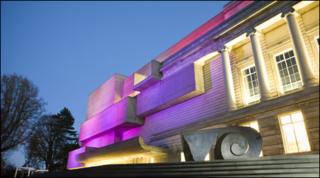 Northern Ireland's Culture Minister has congratulated the Ulster Museum for winning this year's £100,000 Art Fund Prize.
It beat three other shortlisted institutions, including the UK's oldest public museum, Oxford's Ashmolean.
Nelson McCausland said it was the first time a Northern Ireland museum had won "such a prestigious prize".
Mr McCausland commended museum staff for "their commitment and creativity which has enabled the museum to win this superb award".
Last month, Mr McCausland wrote to the trustees of National Museums Northern Ireland, asking them to give more prominence to Ulster-Scots, the Orange Order and alternative views on the origin of the universe.
The Ulster Museum reopened in October 2009 and since then has become Northern Ireland's busiest visitor attraction.
More than 420,000 people have walked through its doors, set in the heart of Belfast's Botanic Gardens.
Chair of the judges, Kirsty Young, said the panel were "moved and invigorated" when they visited the establishment.
"Here is a museum that shows how much can be achieved, and one that is building a lasting legacy," Young said.
"We were impressed by the interactive learning spaces on each level that are filled with objects which visitors are encouraged to touch and explore, and by how the museum's commitment to reaching all parts of its community is reflected in the number and diversity of its visitors.
"The transformed Ulster Museum is an emblem of the confidence and cultural rejuvenation of Northern Ireland."
Anniversary
The three-year renovation, which cost £17.8m, established a series of new galleries and interactive learning zones.
Several renowned artefacts, including the Egyptian mummy Takabuti and a six metre-long edmontasaurus dinosaur skeleton, were given revamped displays.
The re-opening coincided with the 80th anniversary of the Museum's opening in 1929, when it was called the Belfast Municipal Museum and Art Gallery.
The first major exhibition in 2009 was a retrospective by Irish-born, Turner Prize-nominated abstract artist, Sean Scully.
The other shortlisted venues for the Art Fund Prize were Blists Hill Victorian Town, in Shropshire, where costumed staff give visitors a taste of Victorian England, and the Herbert Art Gallery and Museum in Coventry.
In addition to the cheque for £100,000, the Ulster Museum will also receive the Art Fund Prize Bowl, enamelled in silver by the craftsman Vladimir Bohm, which they can display for one year.
Last year a museum dedicated to Wedgwood, the world-famous pottery company, scooped the prize.