Complaints to NI Ombudsman Tom Frawley up 15%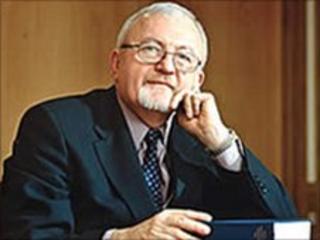 Upheld cases of maladministration by government and public bodies doubled in the past year, the Northern Ireland Ombudsman has said.
The government watchdog's Tom Frawley said complaints received by his office had increased by 15.4%.
Maladministration includes the wrong application of rules.
Dr Frawley said that at a time of cutbacks, it was important to safeguard the rights of individuals and the quality of public services.
"In such challenging times, my office provides an impartial mechanism for ensuring redress, where appropriate, to the individual citizen," he said.
'Systemic failure'
Among the cases he dealt with was a complaint about the Child Maintenance and Enforcement Division (CMED), the body which replaced the Child Support Agency.
Dr Frawley said that case represented one of the worst catalogues of maladministration he had encountered and he considered that he had found evidence of systemic failure on the part of CMED.
The case involved a woman whose child maintenance application was assessed in in early 2007.
By the time she complained to the Ombudsman in February 2009, she had received just two payments, which represented only 6% of the maintenance to which she was entitled.
Dr Frawley's investigation uncovered a litany of bungling, delay and indifference by the CMED which caused the woman financial loss as well as considerable frustration and anxiety over a prolonged period of time.
As a result of the investigation the CMED made an advance payment of the child maintenance arrears, plus interest as well as giving the woman £5,000 compensation.
The head of the CMED also had to make a personal apology .
Ahead of the publication of his annual report, Dr Frawley said his office could identify improvements to make public bodies fairer and more effective.
'Shield'
"We also act as a shield against unfair and unreasonable criticism when, at a time of financial retrenchment, public expectations of services also require to be managed more realistically," he said.
Dr Frawley said he was concerned at an increase of almost 14% in planning complaints, mostly objections to planning applications.
In this area, he can only review the administrative actions that support the decision rather than the decision itself.
A 120% rise in complaints about the health service was because complaints are now referred directly to the Ombudsman, rather than a second-tier independent review.
He said the change in health complaints procedures meant his office could investigate issues "still fresh in the memory", but expressed concern that he had found maladministration by health bodies for failing to manage complaints within an acceptable timeframe.
The ombudsman said complaints about issues relating to the Housing Executive and Housing Associations had fallen in the past year.