Sudan frees opposition leader Hassan al-Turabi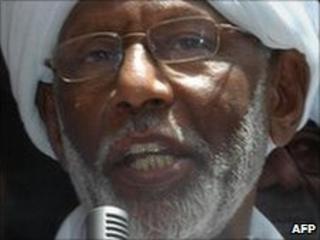 Sudan has released Islamist opposition leader Hassan al-Turabi.
Mr Turabi has spent a month and a half in detention after authorities arrested him in May and closed his party's newspaper.
His wife alleged he had been apprehended after he repeated an allegation that the country's elections had been rigged.
President Omar al-Bashir was re-elected in April.
Critics say the elections - the first multi-party polls since 1986 - were marred by fraud and irregularities.
After his release, Mr Turabi said he would continue to oppose the government.
"We have to fight for democracy and the rule of law," he told the BBC's Network Africa programme.
Darfur links?
Mr Turabi, a former ally of the president, has been detained on numerous occasions since he set up his Popular Congress Party.
He has been accused of links to rebels in Darfur - charges he denies.
He was detained for two months last year after calling on President Bashir to give himself up to The Hague, where he is facing war crimes charges over the conflict in Darfur.
Mr Bashir denies arming pro-government militias accused of ethnic cleansing against black African communities seen as sympathetic to the rebels.
Some 300,000 people have died in Darfur - most from disease - since the conflict began in 2003, according to the UN, although the government says these figures have been exaggerated.
Some 2.5 million have been forced from their homes.