Judicial sentencing guidelines to be put on internet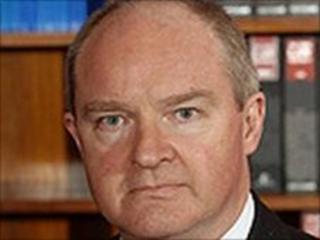 New guidelines for Northern Ireland judges in sentencing criminals are to be published on the internet.
Lord Chief Justice Sir Declan Morgan said it was one of a number of measures aimed at enhancing consistency and increasing public confidence in sentencing.
Judges will be able to identify areas where guidance is required, rather than waiting for Court of Appeal rulings.
A list of priority sentencing areas is to be released in September.
'Consistency'
Sir Declan said: "The judiciary have been looking at the process by which guidance is available to help judges at all tiers when sentencing offenders.
"Our aim is to increase consistency in sentencing as far as that is possible, while recognising that the facts in cases can vary enormously for the same charge.
"We also want the public and media to be able to access the guidance so that they can see the range of sentences available to judges."
Sir Declan said the guidance plan had two significant advantages:
The judiciary will be able to take a strategic view of areas where guidance is needed;
The preparation of guidance will be more responsive to the need identified by the judiciary and the public.
Judgements will be published on the Judicial Studies Board website.
The lord chief justice added: "I anticipate that these proposals will make a significant contribution to the work of the judiciary in the difficult and sensitive area of sentencing.
"I hope that they will also aid the public's access to and understanding of the sentencing process.
"I think that this is a measured and proportionate approach in the circumstances of Northern Ireland."
He said Justice Minister David Ford was consulting on possible statutory options for sentencing guidance and "recognised the value of this package of measures".