Judges reject government appeal over stop-and-search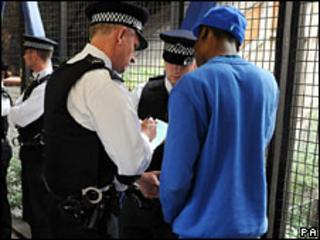 The Home Office says it is reviewing counter-terrorism laws after a European court decided the government could not appeal against a ruling that said random stop and searches were illegal.
The European Court of Human Rights came to its decision in January and it has now insisted it cannot be challenged.
It followed a case brought by two people stopped by police near an arms fair in London in 2003.
Civil liberties groups say stop-and-search should be scrapped.
Campaigners say black and Asian people are targeted disproportionately by police, operating under the provisions of Section 44 of the Terrorism Act 2000, which gives officers the power to stop them without grounds for suspicion.
Right to privacy
Kevin Gillan and Pennie Quinton were both stopped outside the Defence Systems and Equipment International exhibition at the Excel Centre in London Docklands in 2003, where there had already been protests and demonstrations.
Student Mr Gillan was detained as he was cycling to join the demonstration, while Ms Quinton, a journalist, was in the area to film the protests.
Both the High Court and the Court of Appeal rejected their claim that such tactics were illegal, ruling that stop-and-search was legitimate given the threat of terrorism in London.
However, the European Court of Human Rights (ECHR) disagreed, and declared it an unlawful violation of an individual's right to privacy and family life.
The government attempted to challenge that decision, but permission to do so has now been refused. The ECHR also said it would not allow ministers to make any further appeal in the future.
Isabella Sankey, director of policy for human rights group Liberty, said: "This appeal was always doomed.
"The objectionable policy of broad stop-and-search without suspicion was wrong in principle and has proven divisive and counterproductive in practice."
The coalition government has promised to pass a Great Repeal Bill to curb the use of CCTV and the DNA database, and to remove limits on the right to peaceful protest.
Ms Sankey said this bill was "the perfect opportunity" for the government to also scrap stop-and-search altogether.
Responding to the ECHR's decision, a Home Office spokesman said: "The government has already committed to reviewing counter terrorism legislation which will include the operation of Section 44 stop-and-search provisions.
"We are currently giving full consideration to the judgment and its implications."