L'Oreal fortune trial brings whiff of scandal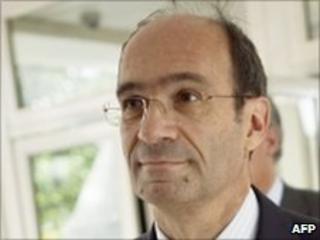 A trial opening in Paris has wafted a scent of scandal over the government of President Nicolas Sarkozy over reports of links between one of his most important ministers and the heiress to the L'Oreal cosmetics fortune.
Labour Minister Eric Woerth, who is in charge of the key policy of pension reform, is fighting calls for his resignation after his name was mentioned in the high-profile case involving the 87-year-old Liliane Bettencourt, often described as the richest woman in Europe.
The trial is of a close friend of Liliane Bettencourt, the 63-year-old celebrity photographer Francois-Marie Banier.
He is being sued by Liliane Bettencourt's daughter Françoise because she believes he has exploited her mother's mental fragility to lay hands on part of the L'Oreal riches.
Liliane Bettencourt is the daughter of Eugene Schueller, who founded L'Oreal in 1909.
It is now the world's largest cosmetics company, and Liliane Bettencourt's wealth is put at around 17 billion euros ($20.78bn; £13.9bn).
Detail of the case has provided gripping reading. But now it has been overshadowed by the wider political story - with Eric Woerth's survival in government hanging in the balance.
Mr Woerth says he is the victim of a witchhunt by the left, which wants to whip up popular anger against the decision to increase the retirement age to 62.
But even in the ruling UMP party, many feel the minister may have ignored for too long an unacceptable conflict of interest.
With the nation's mood at its most unforgiving thanks to a series of recent illustrations of ministerial extravagance, some fear that Mr Woerth may have become a liability.
Unexpected twist
The roots of the Woerth affair lie in the apparently unconnected L'Oreal inheritance dispute.
Banier, a society aesthete who as a youth was a favourite of Salvador Dali, has indeed received money, life insurance policies and paintings from his benefactress worth many hundreds of millions of euros.
But both he and Liliane Bettencourt insist that the gifts were made over in full cognisance - and that her mental faculties are in fine working order.
Two weeks ago there was an unexpected twist.
Unbeknownst to her, Liliane Bettencourt's personal butler had been secretly recording her conversations for much of the last year - and these were made public by a news website.
The recordings were apparently intended to help the daughter's case by showing that Liliane Bettencourt is indeed in her dotage.
In fact the 87-year-old has been deaf most of her life and she does sound frail.
However, the news value of the bugged tapes lay elsewhere.
On several occasions in conversations between Liliane Bettencourt and her financial manager Patrice de Maistre, there appeared the names of Eric Woerth and his wife Florence.
Florence Woerth, it transpired, was an employee of Mr De Maistre's company Clymene, whose sole function is investing the estimated 278 million euros that Liliane Bettencourt draws annually from her 27.5% stake in L'Oreal.
Furthermore, Mr De Maistre says clearly in the tapes that he gave the job to Florence Woerth after being asked to do so by Eric Woerth. This has been strongly denied by the minister.
Florence Woerth resigned from Clymene last week.
Political donations
Also in the tapes emerges strong evidence that Liliane Bettencourt has been avoiding taxes by locking up part of her fortune in two Swiss accounts.
There is also mention of an island in the Seychelles - Arros, which once belonged to the Shah of Iran.
The conversations suggest that Liliane Bettencourt has masked her ownership of the island by using a Liechtenstein front company, possibly with Mr Banier's connivance.
Finally, the tapes show that Liliane Bettencourt has made cash gifts to support political campaigns by members of the UMP, including Mr Woerth.
There is nothing illegal in this because the sums were within the allowed limits.
But what aroused suspicion is that Mr Woerth is not just a minister (and he was budget minister before he took over at labour in March) but also treasurer and chief fund-raiser for the ruling party.
At one point in the tapes, Patrice de Maistre tells Liliane Bettencourt that Eric Woerth "is very nice, and also he's the man who is in charge of your taxes. He is budget minister. He is very nice, he's a friend".
Eric Woerth's critics say they want answers to several questions.
First: Did he indeed step in to have his wife employed at Clymene?
Second: What did he know of Liliane Bettencourt's tax evasion (now admitted by De Maistre who has promised to put things in order)?
And third: Was he in any way influenced - either personally or as UMP treasurer - to turn a blind eye to Liliane Bettencourt's taxes?
Eric Woerth angrily denies allegations of wrong-doing made against him, and he has the public backing of Nicolas Sarkozy.
But even his friends are wondering how a budget minister - the man after all responsible for raising taxes - could think it right to have relations of any kind with the country's largest individual contributor.
For the president, the affair falls at a particularly inopportune time.
The country is in a truculent mood because of the gloomy economic situation, and the atmosphere has been soured further by reports of self-indulgence by several ministers.
Two ministers - Fadela Amara and Christian Estrosi - have been accused of using official apartments to lodge friends and family, while a third - Christian Blanc - had to pay back 12,000 euros of public money which he had spent on cigars.
Most people in France would probably not go quite as far as the Socialist Segolene Royal who said on Tuesday that the "whole Sarkozy system is corrupt. It is a regime which confuses public and private property and has lost all sense of the common good".
However, the Woerth affair is undoubtedly a major embarrassment.
For many it proves what they always suspected: that despite protestations to the contrary the country is still run by a smallish clan of well-connected Parisians, moving arrogantly between ministries, boardrooms, and the salons of the very rich and famous.