Dartmoor jail "too old and isolated" reform trust says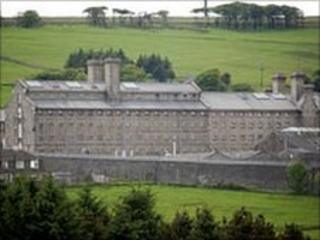 Dartmoor Prison should be closed in time because it is too isolated and too old, the Prison Reform Trust has said.
The trust's Juliet Lyons was responding to a highly critical report by the Chief Inspector of Prisons.
Following an unannounced inspection at the remote Devon jail, Dame Anne Owers said inmates still felt unsafe, despite her warnings in 2009.
Ms Lyons suggested the 19th Century prison could eventually be closed or turned into a heritage museum.
On Wednesday, Justice Secretary Ken Clarke criticised the growth of the prison population in England and Wales and said locking up people for the sake of it was a waste of public funds.
Ms Lyons said that if Mr Clarke was serious about reducing the number of people in prison, she would like to see a day where Dartmoor Prison and similar institutions could become heritage museums.
"We should be able to look and say 'this is where we used to keep people'," she told BBC News.
"You can't have a prison where people don't feel safe.
"It's a very old prison... and it would be very hard, physically, to drag it into the 21st Century.
"It's a dramatic place and a bleak place and you can see why it was built there."
Factors such as Dartmoor's isolation, its age, condition and "problematic" culture should be seriously considered, Ms Lyons said.
"I think it is one of the prisons which is no longer the sort of prison we should have in this century."
The latest report into the Category C prison said that while a new senior management team was attempting to reverse criticism cited in a report last year, there had been insufficient challenges to unacceptable attitudes.
It said more than a third of prisoners felt unsafe, no rehabilitation programmes were available for the large number of sex offenders there, and there was little confidence that violence was either prevented or reported.
Dame Anne said: "We think there were incidents going on that were not spotted by staff because staff were clustered in offices rather than patrolling the prison and finding out what was going on.
"There were some staff who were not engaged enough with prisoners and when they were, were using inappropriate language and behaviour.
"I don't expect one in five prisoners behind their doors in their cells not doing anything useful, not doing anything that is likely to stop them offending when they leave."
She added: "It can get better again, but that will need some strong, robust management."
The National Offender Management Service said the governor and his team were working hard to address the concerns.
In a statement, chief executive Michael Spurr said: "I am concerned at the number of prisoners who told the inspectorate they felt unsafe, especially considering self-harm and use of force incidents have decreased over the last two years."