Poet Philip Gross wins Wales Book of the Year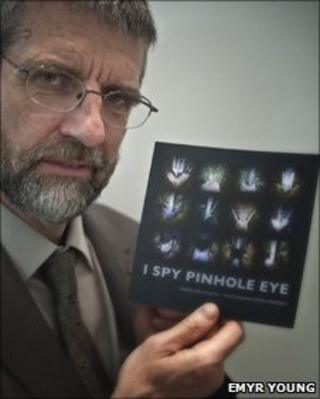 A poet has won the English-language Wales Book of the Year prize for his collection of poems about photography.
Philip Gross's I Spy Pinhole Eye was one of the three shortlisted works for the £10,000 prize.
It is the Penarth poet's second major award in a year - a different collection of his won the TS Eliot prize, also worth £10,000, in January.
John Davies won the Welsh-language award for his book Cymru: Y 100 lle i'w gweld cyn marw.
The title translates as Wales: 100 places to see before dying.
The announcements were made at a gala dinner in St David's Hotel in Cardiff Bay, introduced by BBC Wales' political editor Betsan Powys.
Heritage minister Alun Ffred Jones presented Gross with the cheque for £10,000.
I Spy Pinhole Eye is described as a collaborative work between the poet and photographer Simon Denison, who used a pinhole camera to transform the footings of electricity pylons.
The poetry explores the act of seeing and interpretation.
Gross is a professor of creative writing at the University of Glamorgan.
Also shortlisted were novelist Terri Wiltshire, from Newport, for her debut novel Carry Me Home and Nikolai Tolstoy, from Berkshire, for a non-fiction work The Compilation of the Four Branches of the Mabinogi, an analysis of the origins of the Welsh folk tales.
The awards were decided by poet and University of Wales lecturer Ian Gregson, novelist James Hawes and broadcaster Sara Edwards.
'Close-fought battle'
James Hawes said: "Anyone who thinks literary prizes are stitch-ups should have been in the room with us this afternoon.
"It was a close-fought battle with no unanimous agreement in the end so the winner is on a 2-1 majority verdict.
"We hope that Philip will relish the fact that this was a real five-set tussle not a straight sets walkover. I am personally delighted that we are making this award to a writer who, his other recent collection confirms, is at the very top of his game."
Peter Finch, chief executive of Academi, which administers the prizes, said: "After long debate the judges have chosen what is clearly one of the best books of poetry to come out of Wales this year."
The Media Wales People's Choice Prize, which was chosen by the public via an online poll, was won by poet Richard Marggraf Turley for Wan Hu's Flying Chair.
The Welsh-language prize went to Manon Steffan Ros for Fel Aderyn (Like a Bird).