Specialist unit reports more male forced marriages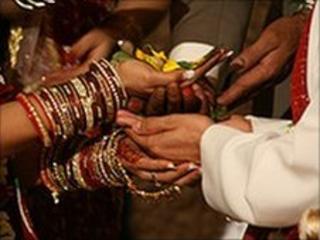 The government unit dealing with forced marriages received 65% more calls about male victims last year than the previous year, figures show.
In 2009 it received more than 220 emails and calls to its help line about male victims, up from 134 in 2008.
Many male victims were forced into marriage because their families know or suspect they are gay, it said.
The majority of cases involve families from South Asia, particularly Pakistan, India and Bangladesh.
Professionals working with young people were urged to be vigilant during summer, a time when incidents increase.
Men accounted for 14% of the total number of forced marriage cases, numbering 1,682, referred to the Forced Marriage Unit (FMU) last year.
However, due to under-reporting, the figures are thought to be well below the actual number of forced marriages.
It is estimated that there are more like 10,000 incidents of forced marriage involving British nationals each year and that up to 20% are men.
The FMU, a joint initiative between the Foreign Office and the Home Office, said that men were often victims for a "variety of reasons".
They included family commitments and expectations, securing visas or the desire to control behaviour and protect a family's reputation, the unit said.
'Ask for help'
So far this year, the unit has received more than 80 reports about male victims, with many cases linked to sexuality.
Foreign Office Minister Jeremy Browne said: "Boys and men who are forced into marriage find it harder to ask for help than women, but we are urging males affected by forced marriage to speak out and seek the help that is available to them."
Victims, usually aged between 15 and 24, are often locked up, subjected to physical and sexual violence and forcibly removed to other countries if they refuse to comply with their families' wishes.
Summer holidays often see an increase of incidents of young people being taken out of the country against their will.