New goals to replace NHS targets
By Nick Triggle
Health reporter, BBC News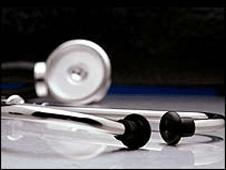 Hundreds of new quality measures will be published in the coming years to help the NHS in England improve care as the coalition government continues its quest to scrap targets.
Health Secretary Andrew Lansley unveiled the standards for three areas - stroke, dementia and blood clots.
But he was forced to deny he was imposing a series of mini-targets.
Last week, it emerged some of Labour's high-profile targets on waiting times would go.
The requirement for GPs to see patients within 48 hours went straight away, while the four-hour A&E waiting target was relaxed before being phased out completely next year.
The health secretary has now said he wants the NHS to measure itself against quality standards.
There are likely to be a set published for 150 different areas of care over the next five years.
Mr Lansley's vision is for these to be used by managers - or possibly GPs if they take on responsibility for managing local budgets in the future - when they commission services.
The idea is that those services that do not meet the standards will struggle to attract funding.
Patients may also use the standards to demand they get the best quality care.
But unlike Labour's targets there will be no requirement for hospitals and other services to report to the government that they have met them or explain themselves when they do not.
Instead, the standards are being couched as advice to the health service.
The measures for stroke, dementia and blood clots were put together by the NHS watchdog NICE in consultation with doctors and patients.
They include goals such as ensuring patients with a possible diagnosis of stroke being transferred to a specialist unit within one hour, and access to rehab care within 72 hours of discharge.
Mr Lansley said the standards would help the NHS provide high-quality treatment.
But he denied he was imposing a whole series of mini-targets as these were "evidence-based" measures identified by the NHS itself.
"These are standards not diktats. It is not politicians establishing these, I am not picking them out. If I started doing that I would be distorting clinical standards."
The new standards received the backing of the British Medical Association.
Mark Porter, of the BMA's consultants committee, said: "At first look, these may seem like a whole set of new targets, but the big difference is that they are not politically driven.
"There is evidence behind these and that should mean we do not get the perverse incentives we have seen in the past. We are pretty impressed."
Related Internet Links
The BBC is not responsible for the content of external sites.