Halt to unitary Exeter and Norwich plan 'arrogant'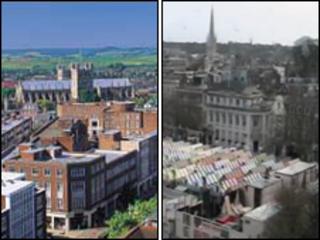 Moves to repeal plans for unitary councils in Exeter and Norwich have been attacked as "arrogant and brutal" in a House of Lords debate.
The government says halting the plan will help save £40m in reorganisation costs.
But Labour's Lord McKenzie of Luton said there was a "genuine local appetite" for unitary status.
Local government minister Baroness Hanham said Labour had attempted a "destructive" reorganisation.
'Restores fairness'
She claimed the new Local Government Bill was the embodiment of the coalition's message of freedom, fairness and responsibility.
She told peers: "It brings freedom from an imposed restructuring, it restores fairness by redirecting those councils' focus to serving communities.
"With this legislation, Exeter and Norwich will be able to continue to be the powerhouse for their counties."
Lord McKenzie said: "What this Bill does in an arrogant, dictatorial and brutal way is to shut out Exeter and Norwich from the opportunity to become unitary councils."
He added: "The case of Exeter has cross-party support and in the case of Norwich has the support of the Lib Dems, the Greens and Labour Party members.
"It is the desired outcome, not dictated or imposed by the government, but proposed by the democratically elected councils of these cities."