Russell Brand climbs to top of UK box office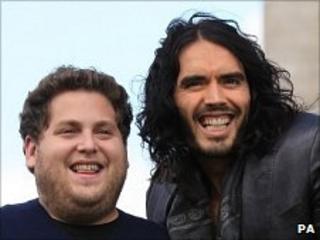 Russell Brand's latest movie Get Him To The Greek has debuted at the top of the UK and Ireland box office.
The comedy, which sees Brand return as arrogant rock star Aldous Snow and also stars Jonah Hill, took £1.5m in its opening weekend.
Ashton Kutcher's Killers fell one place to number two, followed by Sex And The City 2 at number three.
At number four was Prince of Persia: The Sands of Time, with StreetDance 3D rounding off the top five.
Brand's character Aldous Snow was first seen in 2008 movie Forgetting Sarah Marshall.
The character proved to be so popular that writer Nicholas Stoller and director Jason Segel created a Sarah Marshall spin-off.
Death at a Funeral was at sixth place in this week's chart, with new release The Collector, starring Josh Stewart, at number seven.
Romantic comedy drama Letters To Juliet, starring Amanda Seyfried, was at eight, with Russell Crowe's Robin Hood at number nine and Wild Target taking the tenth slot.