Kelso shepherd cycles Scots coastline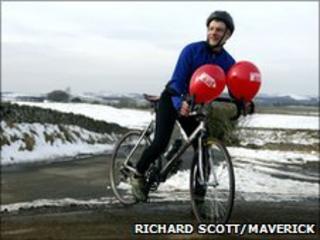 A shepherd from Kelso in the Borders is aiming to cycle the entire Scottish coastline for charity.
Arthur Cross will start his challenge, along with Yetholm teacher Ian King, at Gretna in Dumfries and Galloway.
They aim to complete their 1,300-mile ride, which ends in Berwick-Upon-Tweed, in the space of a fortnight.
The event, for Christian Aid, is designed to raise awareness of the impact of global warning on people in developing countries.
Mr Cross was set to start his challenge at 0800 BST.
The pair will cycle an average of 90 miles a day over the next two weeks.
Every pound they raise will be matched by £4 from the European Commission and they hope to generate £20,000 towards projects helping to grow more crops in developing nations.
"The whole thing is very appealing," Mr Cross said.
"I'm looking forward to going up to the Western Isles, meeting people and helping them to get an understanding of what we are doing.
"I want to get across just how difficult it is for people living in places like Burkina Faso in West Africa and what a big difference a small amount of money can make."