Dog lifestyle study seeks 20,000 Labradors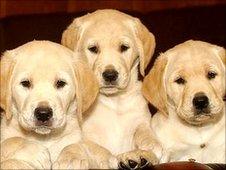 Scientists have begun a search to recruit 20,000 Labrador retrievers in one of the first studies of its kind.
The team, from Edinburgh University, want to find out how diet and exercise can influence a dog's susceptibility to illness.
The animals' owners will be encouraged to update a web page with details of exercise routines and eating habits of their pets.
Labrador retrievers are among the most common breeds of dogs in the UK.
Dylan Clements, from the Royal (Dick) School of Veterinary Studies, said the data gathered would help form a picture of how dogs are cared for across the UK.
He said: "We hope that assessing the lifestyles and health of a large number of dogs will make it possible for us to identify factors contributing to common illnesses.
"Ultimately, this may enable us to provide owners with advice on managing their dogs and prevent them developing diseases in future."
The researchers want to recruit dogs aged less than a year old and mark their progress.
Owners will also be able to compare how their pets fare against other dogs taking part in the study.
The £100,000 project is being funded by the Kennel Club Charitable Trust.
Caroline Kisko, from the organisation, said: "Dogs are not able to talk to us and in veterinary consultations when owners describe their dog's lifestyle it's not always possible to give the full picture.
"This study will look at how a dog's lifestyle and environmental factors affect the dog's health over time and through this we can ensure better treatment through education for owners on the best care for their pets."
Related Internet Links
The BBC is not responsible for the content of external sites.