Surrey fire crews could share services across counties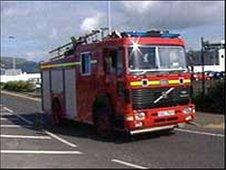 A plan for Surrey firefighters to share specialist equipment and facilities with neighbouring counties has been put forward in a review of the service.
Surrey County Council said it carried out the review to improve safety and provide better value for money.
A spokesman said services could be run with counties such as Sussex, Berkshire and Hampshire, but could not give examples of how the plan would work.
He said the proposals were still in their very early stages.
Ideas put forward included sharing contracts and workshop space, he added.
Other recommendations from the review included examining contracts such as maintenance to see if better value deals could be done, and charging for some call-outs such as lift rescues where a landlord is responsible for the upkeep of the lift.
Councillor Kay Hammond, cabinet member for community safety, said: "Nothing has been decided yet and any changes that do take place will first have to pass through a rigorous public consultation process."
The review also highlighted that 49% of 999 calls made to the fire service were either false alarms or hoaxes.
Ms Hammond said: "One of the aspects any public value review needs to address is waste and it is certainly a waste of our firefighters' time to be responding to so many false alarms and hoax calls.
"Reducing these calls is one way to save money which can be reinvested back into the service."
Recommendations also called for every home in Surrey to have a smoke alarm - currently 18% do not have one.
Related Internet Links
The BBC is not responsible for the content of external sites.