Memorial service for Cumbria coach crash teenagers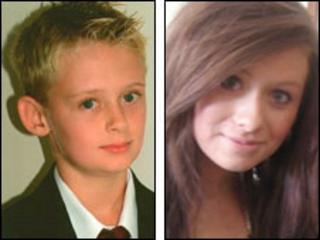 Hundreds of people have attended a memorial service to honour the lives of two schoolchildren killed in a coach crash in Cumbria.
Keswick School pupils Chloe Walker, 16, and Kieran Goulding, 15, died when a 49-seater coach collided with a Honda Civic near Keswick on 24 May.
The driver of the Honda, 68-year-old Patrick Short, was also killed.
The memorial service was held at Crosthwaite Church, Keswick on Wednesday evening.
It was relayed on loudspeakers to people standing outside.
Pupils, staff, parents and members of the emergency services attended the memorial, which was led by Reverend Stuart Penny.
Speaking before the service, Keswick School head master Mike Chapman said: "There are sounds of laughter in the school again which is a good sign but equally there are children who are not coping.
"The service will celebrate the lives of Chloe and Kieran as well as giving thanks to those who played such an important role in dealing with the tragedy."