Cash machine advertiser i-design's losses rise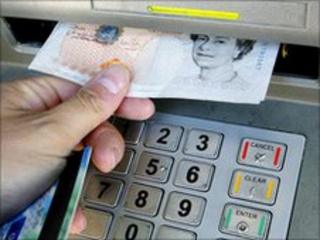 Cash machine advertiser i-design has reported a sharp rise in first half pre-tax losses in the face of tight media advertising budgets.
The Fife company said losses rose to £660,000, up from £368,000 for the same period last year.
Revenues for the six months to the end of March also fell from £1.4m to £911,000.
But the firm said its balance sheet remained robust with net cash of £1.04m and negligible borrowings.
James Faulds, i-design chairman, said: "While the trading backdrop over the period remained challenging for us, with media advertising budgets still constrained, we are seeing signs of sentiment improving in the banking sector.
"This change is obviously helpful to us as we pursue discussions with both existing bank customers and new customers, in the UK and overseas."
New contracts
The company said it had recently secured two significant new contracts which moved the business into new markets.
In May, i-design signed its first contract in the USA with Cardtronics, the world's largest non-bank owner of ATMs.
This was followed in June by its first contract in South America, providing a major bank in Ecuador with its software product, atmAd.
These contracts boosted its number of third-party advertising ATMs to 9,100 ATMs from 5,600 last year.
"We expect to see further progress over the remainder of the year and continue to view long-term prospects for the business very positively," Mr Faulds added.