Ed Miliband leadership campaign hits Holyrood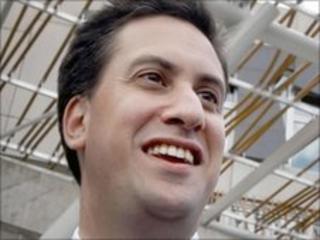 Labour leadership candidate Ed Miliband has said the Scottish party should be free to form its own policies away from London control.
The former UK energy secretary's comments came as he took his campaign to the Scottish Parliament.
Mr Miliband is running against five MPs, including his brother David, in the race to succeed Gordon Brown.
He said the Scottish Labour leader should have a seat on the party's ruling body.
Labour lost the UK election, but emerged as the largest Westminster party in Scotland, winning 41 out of 59 seats.
Devolution settlement
Mr Miliband, who met Labour MSPs at Holyrood, said: "I think the policy in Scotland, for Scottish Labour, should be decided in Scotland.
"For me that's not controversial. Under my leadership we would lighten up about difference because I think we gain from difference.
"The whole nature of the devolution settlement is accepting that, within a United Kingdom, we can learn from each other and there will be particular policies and ideas which would be appropriate to Scotland and that Scotland should be able to pursue."
Labour's new leader will be chosen in September by an electoral college system made up of Labour MPs and MEPs, party members and members of affiliated unions and other affiliated organisations.
The other Labour leadership contenders are former ministers Ed Balls, Andy Burnham and backbencher Diane Abbot.