Rare Sussex Emerald caterpillars found near Deal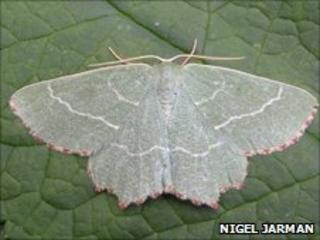 A rare moth has been found breeding on a second site in Kent boosting hopes for its future in the UK.
Butterfly Conservation said scientists ran a survey and found a population of Sussex Emerald caterpillars at Kingsdown, near Deal.
Previously, the only other site in Kent where the moths were known to live was Dungeness.
Experts said the green moth was first recorded at Beachy Head, East Sussex, in 1902.
It became established at Dungeness in 1950.
Apart from in Kent, a few adults have been recorded in Dorset, Hampshire, the Isle of Wight, East Sussex and Essex, but these were thought to be have come from the Continent.
Mark Parsons, head of moth conservation at Butterfly Conservation, said: "Whilst this is clearly marvellous news, this species' future is still far from secure in this country.
"This delicate moth faces threats to its survival on a regular basis."
He added: "Although the Sussex Emerald has now been resident for over 60 generations we need to remain vigilant to secure its continued survival."
He said the protected species had been studied for many years in Kent and was known to be "fussy" in its habitat requirements.
Sussex Emeralds need free-draining vegetated shingle habitats, and the caterpillars like to eat the Wild Carrot plant.
The caterpillar population was discovered at Kingsdown after sightings of the moth in the area last summer.